Can your Network Connection Keep Up with your business?
Get Your FREE Network Assessment
"*" indicates required fields
Certified Technicians

For Perfected Ethernet Wiring Services

As one of the industry's top ethernet wiring service providers, one of the most frequent requests we receive from our clients is to wire copper cabling in their South Jersey or Philadelphia offices. 

Ethernet wiring is the type of network cabling that is, more likely than not, what is running to the computers in your office right now. How can you tell? When you look at the wall jack (where you plug your computer into), you won't really see anything, so it's probable that if there were an issue during installation, it would go unnoticed. 

With Shock I.T. Support's certified technicians, we'll make sure that your ethernet cable wiring is correctly terminated, fully supported, routed and connected back to your company's main I.T. hub, giving you the ability to access the internet and all of your network resources easily.
What If I Don't Know What My Business Needs?
Though the technology can be quite intricate, our experts will gladly take the time to explain everything you need to know during a free consultation to ensure you have the knowledge and resources to make the right decisions for your office's cabling needs.
To get started, here are a handful of questions our experts may ask to be sure that we're able to provide the structured cabling solutions your company requires:
Does your office have multiple databases that need faster connections?
Does your office require an IDF Cabinet because of its size?
Are all of your network switches up to date?
Are they able to support the category wire you choose?
Will your office use IP Phones?
Contact Us Today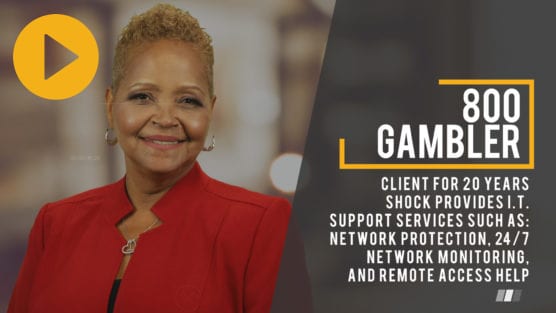 10 Factors To Consider When Hiring An I.T. Company
Download Now
If you're having trouble answering any of the questions listed above, fear not! Shock I.T. Support is the authority on all things ethernet! We'll work with you each step of the way to help make the best, cost-effective decisions for your office. We have over three decades of experience when it comes to providing CAT5, CAT5E, and CAT6 cabling solutions for business owners throughout New Jersey and Pennsylvania, including:
Mercer County
Monmouth County
Bucks County
Middlesex County
Montgomery County
And much more!
Does your business already have an existing I.T. department? If yes, fantastic! We'll work closely together to guarantee that all of your business' needs are met, if not succeeded. If no, that's no problem at all! Shock I.T. Support is wholeheartedly committed to ensuring our clients' network needs are taken care of from start to finish!
Read More
To run a successful business in today's day and age, you require a dependable I.T. setup. That is why you should never settle for subpar ethernet wiring services. With Shock I.T. Support, regardless of the size, scope, or complexity of the ethernet installation your business requires, we have the team, training, and technologies to complete your job on time and within your budget. We've proudly served the business community throughout New Jersey and Pennsylvania for over thirty years and will continue advancing to meet the I.T. needs of our clients.
To find out more information about ethernet wiring, of any of our comprehensive I.T. and data cabling solutions, give us a call or fill out a contact form to schedule your complimentary network audit.
Ethernet Wiring Frequently Asked Questions (FAQ)
What is Ethernet?

In the construction industry, low voltage is often considered to be less than 50 volts which means there is next to no risk of fire or electrocution. Because of the mitigated risk of low voltage cabling, contractors are able to safely work alone or in teams to rewire commercial or industrial offices, buildings, and warehouses.

What wires does Ethernet use?

Ethernet has been a revolutionary means of connecting computers across local area networks (LAN) dating back to the 1990s. Ethernet is designed so that multiple computers can access it, sending and receiving data at any given time when connected.

What is the standard for Ethernet cable?

Category 5 (CAT5) and Category 6 (CAT6) cables are two of the most commonly used Ethernet cables for standard installations.

Can Ethernet cables carry power?

Though Ethernet cables typically carry a minimal amount of high-frequency electricity when sending data, they can also be made to carry more significant amounts of power for certain devices that are connected to the cables.

What is an Ethernet backhaul connection?

A term coined by the telecommunications industry, Ethernet backhaul is a feature that makes it possible to wire Deco units together. Because of this wiring, two units can transmit data with more speed and stability than over a Wi-Fi connection.

Does the length of an Ethernet cable matter?

Though excessive cable lengths (over 100 meters) may cause some slowdown for enterprises, generally speaking the length of CAT5 or CAT6 Ethernet cables will not impact standard performance or network speed of an office or warehouse. As the most trusted provider of Ethernet wiring services in New Jersey and Pennsylvania, Shock I.T. Supports technicians will ensure the optimal Ethernet cabling design to ensure your network requirements are satisfied.