Is your data at risk when working remotely?
Get Your FREE Network Assessment
"*" indicates required fields
Need Secure, Remote Access to Company Data & Software?
Use a Virtual Private Network
With modern workplace technology comes more opportunities for location and device flexibility for employees. But the new need for remote workers can also put your company at a disadvantage by leaving gaps in online security and limiting collaboration potential.
Company information, software, and sensitive data will be at risk
Connectivity and collaboration issues can lead to unproductive remote work
Additional expenses for supplementary security and location changes limit cost-effectiveness
With remote access VPN services from Shock I.T. Support, however, your employees can enjoy secure access to designated department software and data from home or other locations. Call us today to discuss how VPN can benefit your Bucks County, Central or South New Jersey business.
Guarantee Secure Data Accessibility with VPN Installation
Our I.T. personnel are knowledgeable and dedicated to the smooth operation of our client's businesses. One of the best ways to keep your staff working efficiently is by installing a Shock I.T. Support VPN. Our extensive background in I.T. support matched with this superior technology will keep your company's data safe and your business productive, regardless of device or location. Contact us today for a free network assessment or VPN trial.
Contact Us Today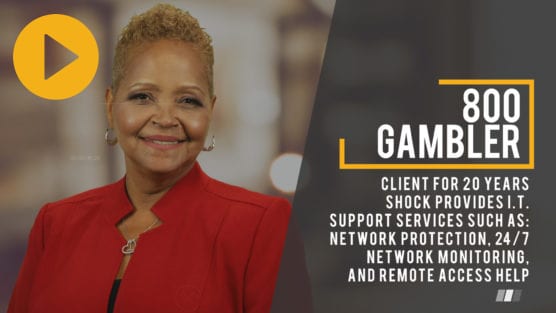 10 Factors To Consider When Hiring An I.T. Company
Download Now
Bolster Your Company's Security with the Best VPN Services in Bucks County

Need to collaborate on information with out of town staff? Have to finish that project from home? VPNs expand your company's capabilities, eliminating the constraints of location and inaccessibility. With this technology, you can create a truly seamless network of remote communication and collaboration.

Our office of experts in Bristol, PA knows how beneficial VPNs can be. They give you and your workforce freedom, convenience, and security. With the implementation of Shock I.T. Support's VPN services, your company can:

Read More
Securely access company software remotely

Collaborate from anywhere

Enhance your company's overall digital security

Reduce costs based on location and network maintenance

Enjoy seamless computing between locations and devices
In the modern business world, collaboration knows no time zone. Whether you are traveling abroad or working from home, virtual private networks, or VPNs, allow you to turn any space into your Philadelphia office. VPN connections are an I.T. solution that will enable you and your employees to securely access your company's network from anywhere, anytime.
Trustworthy VPN Installation and Maintenance in Philadelphia, Central and South New Jersey
Our I.T. specialists serve as your one-stop source for VPN installation and maintenance. With our team, you can expect maximum uptime, prompt service, and unmatched expertise. Even though you may not be thinking about it, ensuring the integrity of your data should be one of your highest priorities.
Your data is one of your business' most valuable resources, and our VPN installations include security measures to protect it at all costs. We will even securely install your remote access VPN systems while swiftly implementing the best VPN service data security measures. Our fast installations offer your business minimal downtime so that you can avoid a lengthy interruption and reduction in productivity.
And we work with you, no matter your changing business needs or employee requirements. Our flexibility allows us to set up and move mobile offices quickly and effectively, no matter the notice. With Shock I.T. Support, you can rest assured that your network, your data, and your company is in good hands.
Customized Strategies. Personalized Attention.
We understand that no two companies are created alike, and as a result, no two have the same needs. At Shock I.T. Support, we'll tailor your VPN to your business' structure and ensure that the network solution suits your individual goals. We take a personalized I.T. approach to each company we partner with, to give them the freedom to be more productive. This technique not only helps to grow your customer base but your bottom line as well.
Five Frequently Asked Questions (FAQ) About VPN Services
Can my company benefit from a Virtual Private Network?
Any company that does work outside of the office can benefit from using a VPN. Secure and reliable out-of-office connectivity can ensure that your network won't experience a breach.
Is my security at risk without using a company VPN?
If your company isn't doing work remotely, you are, most likely, safe. However, implementing a VPN for your company can ensure that any work done outside of the office will not compromise your security.
Can VPN access be limited by employees or departments?
Yes. Just because you have a VPN does not mean that everyone in your company's network needs full access to everything on it. For example, if you are in the HR department and log into your VPN using your credentials, you will only have VPN access to HR information if that is how your network is set up.
From what location should I use a Virtual Private Network?
You can access your VPN network anywhere but inside of your office. Although you can use it in a coffee shop or other location with non-password-protected WiFi, we recommend using it only on networks that require a password for you to log on.
How can VPN reduce costs?
With the best VPN service securing your network and reducing your vulnerabilities, you can mitigate the expenses associated with compromised data or loss. Moreover, purchasing your licensing for VPN allows your company the safety and security for a one-time fee. While you may have to renew your license every two or three years, you don't have to worry about monthly payments with VPN.
Have any other questions or concerns? Our I.T. support specialists are happy to answer them. We can explain everything, in plain language, without using technical jargon. As a VPN company, we prioritize your satisfaction and the safety of your business and its data above all else.
Contact Your Team of I.T. Specialists Today!
Avoid compromising company data when you utilize secure remote access VPN, private and untethered browsing, and safe collaboration with our VPN service. If you're looking for managed network services or network troubleshooting, why wait? Call us at 215-946-1046 or contact one of our I.T. experts to talk about your custom VPN solution now!