Do you have a tech team you can depend on?
Get Your FREE Network Assessment
"*" indicates required fields
Are Technical Glitches Hurting Your Productivity?
Turn to Outsourced I.T. Services
Your business needs the expertise of a trustworthy I.T. support team to keep your network running smoothly, your files and data secure, and save you time and money in the long run. Unfortunately, you must make the choice between I.T. outsourcing and handling support in-house. If you are a small- to mid-sized business, hiring an in-house I.T. support representative might not be the right option because:
They can cost a small fortune.
You are not guaranteed to find a technician with the necessary qualifications and skills.
Ongoing training is almost always necessary for in-house personnel.
If you are looking for efficient, dedicated, expert I.T. support technicians to protect your small business, then outsource it to the reliable team at Shock I.T. Support. We can handle all your I.T. needs so you can focus your efforts on running a successful business.
Outsource I.T. Support for Trained & Committed I.T. Specialists
Why overpay for untrained in-house I.T. support, when you can hire experts that are just a phone call away around-the-clock? Our I.T. personnel are already specialists in the field, so they know the terrain, require no training, and are available solely for your company's I.T. needs. From remote network management and cloud services to increased data protection and on-site maintenance, I.T. outsourcing with us can be your best bet for cost-effective, expert-quality support.
Contact Us Today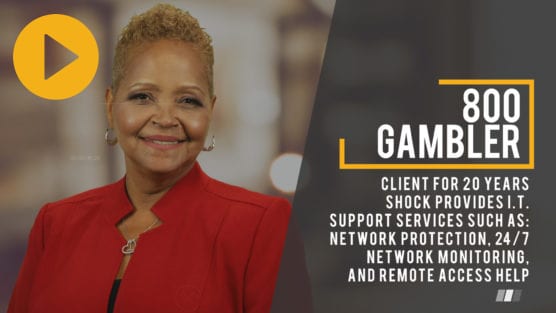 10 Factors To Consider When Hiring An I.T. Company
Download Now
You know, a lot of businesses who bring I.T. support in-house still struggle with the day-to-day challenges that they hired someone to manage. Why? Lots of reasons, actually – everything from a given I.T. person's level of competence to his or her ability to manage a high-volume workload. Not to mention costs – hiring an in-house I.T. support specialist is expensive. And you never really know what you're getting until the person starts doing the job.

It's time to partner with a company of top experts who have the expertise to understand your needs, the flexibility to work within your budget, and the resources to provide the support you require.

Read More
Custom I.T. Solutions For Your Business' Needs
No matter what industry you're in, you need a network that you can rely on to store all of your company's data. This data, essentially, is your business, so why have subpar I.T. management? Keep all of your operations functioning properly with Shock I.T. Support's reliable outsourced I.T. Services.
When you work with us, you have the experienced team of Shock I.T. Support on your side. You'll receive comprehensive outsourced I.T. services that include:

Network Monitoring & Remote Management

Performance Backup

& Database Administration

Security Updates

Data Recovery

Services

I.T. Consulting

& Management

Protection Against Malicious Third Parties

Reduced Costs & Increased Productivity

On-Site Maintenance & Troubleshooting



When you partner with us, you'll receive managed I.T. services that will allow you peace of mind, knowing that your technology will be up-to-date, secure, and backed up. Once your business is fully operational in the cloud, you'll reap the benefits of streamlined operations, with a significant increase in productivity and efficiency.
I.T. Outsourcing That Fits Your Needs
To ensure that everything is working correctly within your network, it's in your best interest to outsource a professional I.T. team from a company that dedicates themselves to maintaining your business's operations and helping it to thrive.
Our team of top experts provides outsourced I.T. services that are customized to your needs. We are always available to communicate with you, solve any technical or structural issues, and prevent new ones from occurring.
Don't Go It Alone
When you try to handle your I.T. on your own, it can be overwhelming. While some companies in Philadelphia and South Jersey choose to deal with I.T. operations internally, it is best to rely on a company like ours who have made it our expertise.
You have an entire company to worry about.
When you own a company, there are so many aspects of your business that you must tend to. In the time that it takes for your team to resolve a sudden I.T. problem, your company can experience a disruption of workflow and loss in productivity.
If something goes awry with your website or network, having an outsourced team of I.T. professionals means that problems can be resolved swiftly, and you and your employees can continue focusing on your areas of expertise while we focus on ours.
If there is an I.T. issue that needs to be resolved, opting for I.T. outsourcing with a team that deals with network issues every day lets you save time, energy, and resources, allowing your team to focus on their goals without being drawn away to attempt to fix something they are unfamiliar with. This solution is scalable, lets you grow faster, and lets you keep doing what you do best. By hiring a top outside technician to solve I.T. problems, you can rest assured that everything will be done by someone who has thorough training in the field.
Five Frequently Asked Questions (FAQ) About Outsourced I.T. Services
Are outsourced I.T. services right for my business?
If you're a small to medium-sized business, outsourced I.T. services are perfect for you. We offer packages that serve the needs of your company and ensure that the tech side of your business will never slow you down.
What services can I get when I outsource my I.T.?
You can enroll in a managed I.T. service package that covers your technical needs. If you don't predict needing daily or weekly I.T. support, you can still enlist our help at an hourly rate.
Will outsourced I.T. save me money?
Having an in-house tech team can cost small to medium-sized businesses a significant portion of their budget. By outsourcing your I.T. services, we can provide you higher quality service at a fraction of the price.
How fast can my outsourced I.T. get to my location?
For the majority of our clients, we can get to their location within an hour to begin service. If your company is located in Bucks County or Philadelphia, Pennsylvania or New Jersey, South Jersey, or Central Jersey, we can provide on-site I.T. services for you.
When should I expect to hear back from your I.T. team?
When you contact our I.T. team, you should expect to hear back from us in 15 minutes or less. We know how important your I.T. issues are — that's why we don't keep you waiting.
Act Now
We specialize in delivering advanced I.T. support services that allow your company to succeed. When you outsource your I.T. services to Shock I.T. Support, we provide you with system optimization, cloud solutions, and I.T. support that is customized to fit your specific needs. Our team will ensure that your network is functioning correctly 24 hours a day, 7 days of the week, with on-site service for Bucks County and Philadelphia, Pennsylvania and New Jersey, South Jersey, and Central Jersey. With our support, you won't have to struggle with your I.T. network issues ever again.
Get reliable I.T. support. Contact us today!