Looking for a Low-Voltage Solution?
Get Your FREE Network Assessment
"*" indicates required fields
Reliable Low-Voltage

Contracting Services

When you're in search of a low-voltage contractor for your Philadelphia or South Jersey business, look no further than Shock I.T. Support for efficient, reliable service. With over three decades of I.T. experience, we offer a wide range of low-voltage systems, including surveillance systems, VoIP phones, and mass notification systems for businesses throughout NJ and PA. 

Our team has a deep appreciation for the rapidly progressing technologies our clients rely on each day. In an industry where advancements and changes happen suddenly, Shock I.T. Support stays on the cutting edge to provide service and technical expertise, which is second to none across the industry. We offer the low-voltage contracting you can trust and advanced technological equipment which is built to last. 

Shock I.T. Support proudly offers cost-effective, low-voltage contracting services for businesses throughout New Jersey and Pennsylvania, including:
Bucks County

Mercer County

Middlesex County

Monmouth County

Montgomery County

& Much More! 
When quality and reliability are what you're looking for, you'll find it with the low-voltage wiring contractors at Shock I.T. Support!
Low-Voltage Cabling in NJ & PA: Take Your Data Network to the Next Level
We don't need to tell you that I.T. and computer networking issues can be a difficult task to take on without decades of experience. It's likely that you already have a migraine just thinking about it! However, it doesn't have to be hard! It all beings with your business' initial system installation. When partnered with Shock I.T. Support, from day one, you can rest assured that you have a detailed game plan for your installation to prevent issues from occurring throughout the process. Our technicians take pride in the planning and attention to detail in each job we're hired for. We're more than equipped to handle low-voltage system installations of every size and scope, and guarantee a simple, accurate process from start to finish.
Contact Us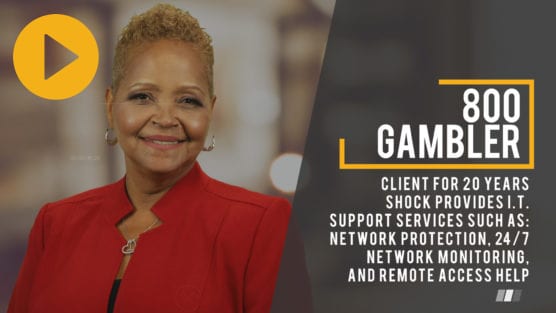 10 Factors To Consider When Hiring An I.T. Company
Download Now
Why Partnering with a Low-Voltage Contractor?
Low-voltage wiring and contracting involve carefully maintaining of all communication and monitoring systems that don't require a vast amount of electricity. Here are just a few of the services our low-voltage contractors offer to enhance communication and keep your business running smoothly:
Fiber optic cabling
CAT5, CAT5E, or CAT6 wiring
Telephone services
Security monitoring
Video conferencing
And Much More!
When your business wants to install a new system, such as a VoIP phone or security surveillance system, it's in the best interest of your business to partner with the low-voltage wiring contractors that have decades of field experience. Shock I.T Support only invites the most talented, knowledgeable, and trustworthy contractors to join our team, and we work hard to evaluate your current systems before designing and installing a new low-voltage system that will meet all of your company's I.T. requirements.
Read More
Ultimately, Shock's team strives to improve your business' network infrastructure so that you can be confident with your system for many years to come. This will not only help you remain confident about your low-voltage wiring but will also help your company avoid problems in the future. We're even happy to work alongside your existing IT department to make sure everything's running smoothly before, during, and after your data cabling installation.
Shock I.T. Support: Reliable Low-Voltage Contractor in New Jersey & Pennsylvania
When you're in need of a new system for your Philadelphia or South Jersey business, talk to the Shock I.T. Support team for fast, cost-effective low-voltage cabling and structured wiring services. Our team is fully licensed, fully-insured low-voltage contractors with an unwavering commitment to satisfying the network cabling needs of our clients and delivering exceptional results. Reach out to our experts by giving us a call today or fill out a contact form for a free network assessment and see how Shock can advance the technologies that support your NJ or PA business.
Low-Voltage Contracting Frequently Asked Questions (FAQ)
What does low voltage mean in construction?

In the construction industry, low voltage is often considered to be less than 50 volts which means there is next to no risk of fire or electrocution. Because of the mitigated risk of low voltage cabling, contractors are able to safely work alone or in teams to rewire commercial or industrial offices, buildings, and warehouses.

What does a low voltage contractor do?

Shock I.T. Supports low voltage contractors are tasked with installing, maintaining, and repairing our clients' low-voltage cable systems.

Is low voltage dangerous?

Since low voltage means under 50 volts, it is considered to be inherently safe in terms of shock injury. However, it's important to note that low voltages may surprise the technician which can lead to other on-site injuries if safety precautions are not followed.

Do you need a license to install low voltage cable?

No. Though Shock I.T. Support's low voltage technicians do not need a license to install your low voltage cables, they do undergo intensive training to ensure best practices are followed and flawless installations for our customers.