Does Your Business Require Immediate Onsite Support?
Get Your FREE Network Assessment
"*" indicates required fields
Providing more than virtual assistance

– We will bring our services to you.
Is it getting too hard for you to manage all your technology needs on your own? If you feel like your business is starting to fall behind, it's time to hire a reliable in-house I.T. team at Shock I.T. Support. No matter if you're in New Jersey, Philadelphia or Bucks County, PA, we can design custom I.T. solutions around improving both the speed and security of your network.
Investing in Your Future with In-House I.T. Services
Partnering with Shock I.T. Support for in-house I.T. services will prove to be a rewarding investment for your business. Maximize the performance, protection and productivity of your workplace with the help of our experts. Learn more by contacting us today for a free network assessment.
Contact Us Today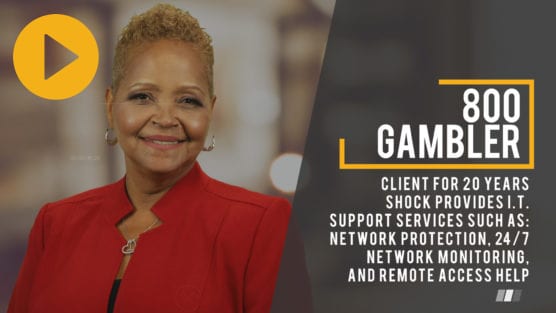 10 Factors To Consider When Hiring An I.T. Company
Download Now
In-House I.T. Services for Small to Medium-Sized Businesses
Our staff is committed to helping clients see their way through the future of technology. During a time when everything seems to be advancing so quickly, our firm is here to offer the guidance you need to make the best possible decisions moving forward. Rather than constantly feeling confused about your I.T., you'll begin to have more confidence once you partner with the pros at Shock I.T. Support.
Nowadays, running a successful business depends largely on the condition of the technology at your workplace. So, if you haven't been making important upgrades, your tech is probably causing you more harm than good. Concentrating on your business goals while also trying to improve your technology, at the same time, can turn into a complete nightmare. Refuse to get caught in this endless cycle!
Read More
Here's the solution: We can place in-house I.T. specialists at your workplace as often as required, providing you with access to an onsite help desk during regular business hours. They would also be backed by a team of experts that would work collectively to resolve any serious challenges you might face. Here are just a few of the services we provide to our clients:
Don't wait any longer to free yourself from the aggravating problems brought about by outdated technology. As one of the best in-house I.T. providers in the tri state area, we'll help you streamline your processes for a more synchronized workplace. Fuel the continuous growth of your company with top-of-the-line I.T. solutions from Shock I.T. Support. Make technology your greatest strength!