Need to Get Your Company's Phones on the Cloud?
Get Your FREE Network Assessment
"*" indicates required fields
Voice Over IP:

The Smartest Way to Communicate
Ready to cut costs and get your company's phones set up in the cloud? 
In the digital era, companies without Voice Over Internet Protocol (VoIP) systems in place are failing to keep up with their competition and the technologies designed to make workplace communication more efficient and cost-effective.
Have you ever made a phone call via Skype, WhatsApp, Google Hangouts, Facebook Messenger applications? If so, you're already familiar with VoIP! In order to utilize Voice Over IP, all you need to have is a reliable internet connection, and you can get business phone service via the internet rather than from your local telephone service provider.
VoIP Features 
Cloud-based phone system
All the traditional features of a standard phone system such as:

Caller-ID
Voicemail
Call Tracking
Call Transfer

Call & video conferencing
Call recording & call log tracking
Integrate business contacts
Call forwarding & holding
CRM integrations
The Benefits of VoIP
With Voice Over IP, you can cut the costs of your phone bill while improving the quality of your business communications. With VoIP, you'll never have to worry about missing another call since your smartphone or tablet will seamlessly serve as your office phone. This means better, faster, and more efficient customer service for your clients. Additionally, this easy to install and self-manage VoIP software is designed to scale with the size and needs of your organization. Whether your team relies on SMS/MMS messaging, online chats, or video conferencing, VoIP is an all-inclusive service with trusted end-to-end encryption to keep your data and conversations secure.
Contact Us Today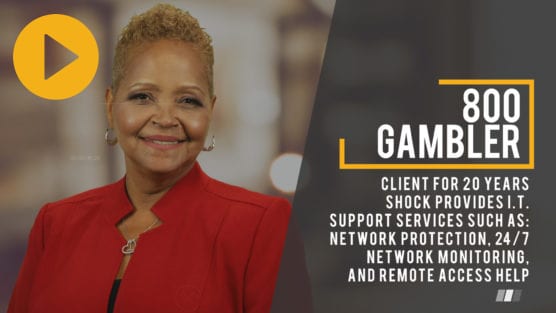 10 Factors To Consider When Hiring An I.T. Company
Download Now
Web and Video Conferencing
Whether utilized for internal meetings, virtual consultations with your clients, or webinars, VoIP with Shock I.T. gives your team the ability to impress your audience with high-quality video presentations and screen sharing.
Communication Across All Devices with Cloud-based VoIP
With VoIP from Shock I.T. Support, your company's employees will have communicative access from Mac, Windows, iOS, Android over the internet from any desktop, laptop, tablet, or mobile device.
Cut your phone bill & the costs of communicating
Never missing another call means better customer service
Allows for Status, Chat, & CRM integrations
The application is easy to install & self-manage
Take advantage of cloud-based video conferencing
Stay in contact with SMS/MMS Messaging
Built to scale with your company – no user limit restrictions
Secure, reliable connection – end-to-end encryption
Use Your Office Phone Extension Anywhere with VoIP
Whether your team is at the office, working remote, or on the go, VoIP from Shock I.T. Support allows your employees to make and receive calls anywhere right from their smartphones at no additional cost. 
Contact Shock I.T. Support for Voice Over IP   
To find out more information about VoIP, contact us for all of your network cabling, network infrastructure, or managed I.T. needs. Our Voice Over IP team of experts is readily available to schedule a free assessment and answer any questions you may have. 
Voice Over Internet Protocol Frequently Asked Questions
What is VoIP?

Voice Over Internet Protocol (VoIP) uses an internet connection to complete calls and various forms of communication rather than traditional, land-line connections to make and receive calls.

How does VoIP work?

Rather than placing a call that connects to the other party by traveling across copper telephone lines, VoIP phone systems convert your voice messages into digital signals which are sent and received via cloud-based web applications.

How do I get Voice Over IP?

As one of the industry's most trusted providers of I.T. support, data protection, and office cabling, Shock I.T. Support is offering free consultations for business owners interested in setting up VoIP for their companies.