Looking for a Low-Voltage Cabling Contractor?
Get Your FREE Network Assessment
"*" indicates required fields
Complete
Network Wiring Installation
Did you know that network data wiring has a direct impact on the reliability and performance of even the most intricate computer networks and systems every day? Keeping this in mind, it's essential to ensure that your company's network wiring is installed correctly and uses only the highest quality of wires and materials.
Shock I.T. Support has you covered when you're in search of trusted network cabling services in New Jersey and Pennsylvania. Our technicians proudly offer network cabling services in the following areas:
Bucks County
Mercer County
Middlesex County
Monmouth County
Montgomery County
& Many More!
Data Cabling Installation & Network Wiring Installation in NJ and PA
With the rapid progression of technology, network cable installation allows your business to stay ahead of the times and meet the demands of your customers. Whether your company requires data cabling installation on either a small or large scale, Shock I.T. Support offers scalable solutions and superior network cabling services.
Our highly-skilled team of technicians receives extensive training to ensure that they understand the intricacies of network cabling. Our team is readily available for everything your business needs, from small office simple structured cabling solutions to complete network rewiring installations for your large corporate facility.
Contact Us Today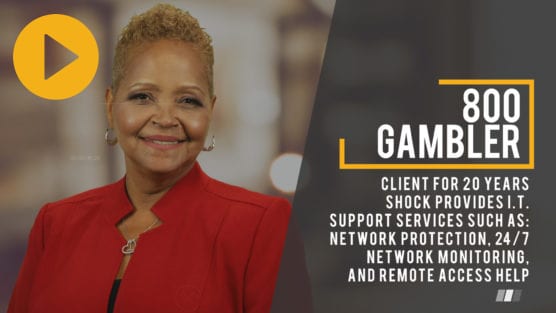 10 Factors To Consider When Hiring An I.T. Company
Download Now
Philadelphia & South Jersey's Most Exceptional Network Cable Installation Team
Though Shock's technicians make it look simple, networking and cabling are complex processes. When your company's data wiring is improperly implemented, you'll quickly notice the issues that will arise. Having already made a substantial investment in your organization's IT infrastructure, shouldn't you expect a reliable network?
Shock I.T. Support's cabling installation technicians certainly believe you should. Our team is trained to accurately assess the needs of your company and provide you with a well-developed wiring strategy to meet your requirements first and foremost.
No matter if your business is located in Mercer County, Middlesex County, Monmouth County, New Jersey, or across the river in Philadelphia or the surrounding Montgomery County or Bucks County, our technicians are available to visit your establishment for a network infrastructure consultation. We'll evaluate your existing data cabling, and provide you with the perfect data wiring solution using the highest quality of cabling techniques and materials.
Read More
What You Can Expect From Shock I.T. Support
When you turn to Shock I.T. Support for your company's network cabling and wiring needs, you can rest assured that you are getting top-tier support. Whether your business is starting from scratch and you bring our techs in for an initial evaluation, or you're looking for a full replacement of your existing network infrastructure, our team will provide you with a free, zero-obligation quote that breaks down exactly what you should expect when moving forward with a data cabling installation.
To make your network cabling installation as hassle-free as possible for you and your company, we'll schedule your installation for a date and time that is most convenient for you and will already have all materials ready to go before the day of installation. From there, we'll work quickly and efficiently to complete your data cabling job to ensure minimal to no downtime for your daily operations.
South Jersey's Best Network Wiring Service Provider
Shock I.T. Support's mission is to ensure that our clients' businesses are set up for long-term success, and that depends on them having a reliable, high-performance I.T. setup. A significant factor that plays into this is your company's network cable wiring, which is something that should be implemented on the fly by just any old I.T. company. It requires careful thought, planning, and execution to be sure your business I.T. needs are appropriately managed.
Shock I.T. Support's team has been in the network cabling and wiring business in New Jersey and Philadelphia for over three decades. Along the way, we've earned a coveted reputation for delivering the most excellent network cabling services and managed I.T. solutions for our many clients.
Shock's network cabling services are designed to make your company's network reliable, convenient, and custom-tailored to meet our clients' needs.
Regardless of the size, scope, or complexity of your network wiring needs, our cabling installation tea is here and ready to help. Give us a call or fill out a contact form to schedule your complimentary consultation about all of your I.T. concerns, including network cabling installation, voice-over IP cabling, HD video conferencing solutions, and much more!
Network Cabling Frequently Asked Questions (FAQ)
What is network installation?

Network Installation Services is an IT Systems firm that provides cable system design, installation, and project management services over the spectrum of data, voice, electronic safety & security, and audio & video technologies, encompassing optical fiber, copper, and wireless based distribution systems.

What are the different types of network cables?

Coaxial Cable. It has a single copper conductor in the middle.
Shielded Twisted Pair (STP) Cable. It is a special kind of copper telephone wiring used in business installations.
Fiber Optic Cable.
Unshielded Twisted Pair.
Network Cabling in Perth.

What is the most common type of cable used for networking?

The most commonly used types of network cable are the twisted pair, coaxial, Ethernet cross over, and fiber optic. The unshielded twisted pair (UTP) cable is used in many Ethernet networks. It has four pairs of wires that are housed inside of the lining of the cable.

How does structured cabling work?

A structured cabling system is a complete system of cabling and associated hardware, which provides a comprehensive telecommunications infrastructure. This infrastructure serves a wide range of uses, such as to provide telephone service or transmit data through a computer network. It should not be device dependent.

Why do we need structured cabling?

Structured cabling is a type of infrastructure that supports the performance of an organisation's cabling system or network. It is the glue that binds all PCs, phones and other devices used within the business together – providing a reliable and versatile solution to a wide range of communication requirements.