Do you have a ready and reliable I.T. Support team?
Get Your FREE Network Assessment
"*" indicates required fields
Don't Let Tech Mishaps

Slow Down Your Business

I.T. issues are one of the most damaging barriers for any business due to a variety of reasons. If your company deals with slow internet speeds, outdated or nonexistent cybersecurity or data storage options, or collects sensitive, at-risk data, then you need dependable I.T. support services from Shock I.T. Support. We can address your company's:
Internet connectivity issues and slow network speeds
Feeble cybersecurity measures that put your customers and your company's data in danger
Lack of data storage options that risks irreparable data losses
Don't fall behind the competition and delay business growth and success because of I.T. glitches and security breakdowns. Stay on top by calling Shock I.T. Support today, and bring safety and stability to your business.
Professional I.T. Support Services from Real People with Real Expertise
I.T. problems can slow down your business's productivity and negatively impact how you communicate with customers. For over 30 years, our I.T. experts have responded promptly and efficiently to a wide variety of business I.T. support requests in New Jersey and the Bucks County area of Pennsylvania, and our tech specialists will continue to uphold that legacy of excellence with your network, working unceasingly to maximize your company's technology capabilities. From improving cybersecurity through I.T. infrastructure support to advanced data protection and recovery, Shock I.T. Support can grow your network, increase connectivity speed, and break through the barriers that prevent progress for your business.
Contact Us Today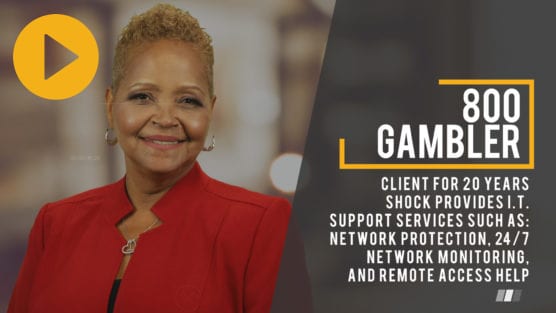 10 Factors To Consider When Hiring An I.T. Company
Download Now
Give Your Business I.T. Support Solutions Now & Enjoy Technical Support Long-Term
If you have a technical problem – things like a slow computer, a Wi-Fi signal that goes in and out, or trouble accessing data – how long does it typically take to get the issue resolved?
When you call your I.T. company, does a person answer the phone, or are you directed elsewhere to fill out a ticket?
Think about the last time a digital glitch or buggy online platform interrupted your operations. How far did it set you back, and do you think it will happen again?
If your answer to any of these questions isn't one that inspires confidence, it's time to reconsider what you're doing to manage your I.T.

Read More
Get More Done with Shock I.T. Support
Do you feel like something is holding your business back from seeing the growth you expect? At Shock I.T. Support, our team of experts works to make your business' technology and framework faster, more reliable, and more efficient by seamlessly connecting all of your devices, workstations, and printers. Implementing these programs means more money for you, your business, and your bottom line.
Our 24/7 I.T. Support services produce:
Faster Network Speeds

Robust Cyber Security Programming

Safe, Reliable Network Connection

Modernized Storage Constructs

Protected Data
And we can cover specialized needs for your business, such as:
I.T. problems are one of the most commonly cited reasons why businesses don't reach their goals. Don't be one of those businesses; let us provide the I.T. support solutions you need to boost your productivity, not drag it down. We offer expert support for any technology issue your business in Bucks County, Philadelphia, Central Jersey, or South Jersey may be experiencing, including:
Slow Network Speed
Slow network speeds can diminish productivity due to wasted time on file transfers, downloading attachments, and other activities. It can even make loading emails and other valuable information a pain and a waste of time, not to mention reducing employee morale. In short, slow speeds equal a loss of overall profit.
Weak Cyber Security
It doesn't take a hacking expert to know that weak cybersecurity can cost a business more than money; it can cost them their reputation. Having a sophisticated security strategy from Shock I.T. Support's local crew of experienced technicians can give you the assurance your business remains safe and secure.
At-Risk Data
Having at-risk data does more than jeopardize your business; it can compromise your customers' personal information and impose extra costs for your organization. If you collect any personal data on your website, you could be subject to fines, a loss of reputation, and more.
Connection Issues
An unreliable internet connection is a liability for your business. Being constantly interrupted or even losing your connection can result in thousands of dollars lost per day due to downtime, productivity losses, and maintenance.
Outdated Data Storage
Don't subscribe to the "if it ain't broke, don't fix it" mentality, because it's a fallacy when it comes to safeguarding your data. Running old and outdated software can expose your business to vulnerabilities that can compromise your data and cost you money. You can't afford to run your business on old equipment, software, or programs.
Pacesetters in the Industry
Failing to stay ahead of technological trends can render you and your organization irrelevant — it's that simple. Not only can your business begin to fall behind in your industry, but it can experience stifled growth and stability.
What's more, the disorganization that can occur as a result of failing to embrace new technology can lead to missed opportunities for your business to connect and interact with your customers. In short, if you don't stay ahead of the trends, your company will likely fall into obscurity.
With our help, you stay ahead of the latest technological advancements. We're available 24/7, to empower your network by ensuring that it's working at an optimal level of efficiency, providing both preventative and reactive solutions for any tech issues you may be having. Slow or inefficient networks can lead to problems for your business, such as lost data, reduced productivity, and a handicapped ability to communicate. With the help from the top I.T. team in Bucks County, you can take control of your network and avoid these problems altogether.
Our local Philadelphia-based I.T. experts can help you stay ahead of the curve with their professional support services. We stay up to date on industry research, attend conferences and other events, and are continually embracing new opportunities to remain ahead of the technological trend. We understand that your business is your lifeline, and we're passionate about staying up to date with the emerging news and breakthroughs to give your business the edge to succeed.
Let Us Pull Out All the Stops — Don't Hinder Your Network Speed
Your business demands reliability from your network. And slow or interrupted internet services can wreak havoc on your bottom line. Having an inefficiently-functioning network can lead to a host of problems, such as:
Lost Data
Slow internet speeds can hinder data transfer rates, causing not only lost time but lost data and revenue.
Reduced Productivity
Sudden and unscheduled downtime due to an improperly-functioning network can sidetrack any business. Add that to the necessary and unplanned maintenance work, and you're looking at a significant loss for your bottom line.
Depleted Communication Ability
Internet connectivity influences just about every aspect of employee activity. From struggling to send emails with large attachments, to having difficulty downloading crucial documents, an inefficiently-working network connection can decrease employee output.
Proactive and Reactive Responses to Network Issues
Little problems like inconsistent Wi-Fi or slow connection speed can quickly add up, slowing down your network and decreasing your productivity. Don't let these small, inconvenient tech issues obstruct your company's workflow. Our I.T. experts have shown why we are the best in the business for more than three decades. And time and time again, we've proven that we're the top I.T support company in the Philly area.
With one simple call to our professional I.T. team, we can come to your business and provide you with unparalleled support and service. We offer:
A Streamlined Approach to I.T. Support
Our team of I.T. experts is precisely that: a team. When you choose us for your I.T. support services, you're getting much more than that "I.T. guy" that occasionally comes to your office to update your software. You're getting a team of dedicated professionals who approach your unique network issues proactively, diagnosing issues in a timely manner.
Free Network Assessments
You're busy running your business and keeping your customers satisfied. It's likely that the security and health of your computer network are not at the forefront of your mind. The sad fact is, many businesses do not perform regular I.T. maintenance, which leaves the door open for the loss of data and even attacks from hackers. Our team can assess your network to check your speed, reliability, and security to make sure you're getting uninterrupted performance.
Advanced Network Troubleshooting
We use every tool and resource at our disposal to provide your business with dependable network troubleshooting and solutions. Our business I.T. support team is experienced in diagnosing almost any issue inhibiting your business' output. We include not only essential network troubleshooting tools but more advanced approaches to make it easy and efficient to get your network up and running again.
Increased Speed & Cyber Security
Cybersecurity worries aren't just for large, multinational companies — small businesses can be targeted just as easily. Our I.T. specialists will deliver increased network speed and security for your business to safeguard your data and allow you and your employees uninterrupted internet access. No more lost productivity or revenue due to network downtime.
Not a One-Size-Fits-All Approach
We understand that all businesses are different, and all technological needs are not equal. Rather than offering standardized I.T. support, we provide our partners with personalized I.T. Solutions in PA to suit their exact technology needs.
Installation, Maintenance, & Troubleshooting
We provide every facet of network support so you can focus on running your business, and we can focus on maximizing your productivity. We can install all network components, and our technicians have a wealth of knowledge and expertise in industry best practices. We also provide maintenance plans and troubleshooting to protect and optimize the performance and life of your network.
Disaster Recovery & Data Backups Services
Without a data backup or a disaster recovery plan, your business may not be able to retrieve crucial lost data. This can not only reduce your productivity but can cause significant revenue loss as well. Having a well-prepared backup plan and recovery service can help to avoid this costly catastrophe and minimize its negative impact on your business.
Managed Network Services
Managed I.T. services can free you from the worry of patching, monitoring, and maintaining your interconnected network. With our reliable tech support, we use strategic methods to improve your overall operations and reduce unnecessary expenses related to slow speeds and downtime.
Wi-Fi & Access Point Connectivity
Your business needs reliable Wi-Fi access through many access points. Our I.T. support team can help to determine the optimal locations to install these access points to evenly cover spaces throughout your business with a reliable network signal, leaving you with dependable wireless internet access.
Maximizing Tech Capabilities
The power of technology shouldn't be underestimated. By continually staying ahead of trends and new developments, our I.T. specialists can customize a service plan that's perfect for your business needs. Your success is our ultimate goal, and we use every resource available to maximize the technological benefits for your organization.
Five Frequently Asked Questions (FAQ) About I.T. Support
Is my business at risk for cybersecurity issues?
Many businesses have an infrastructure that can leave them vulnerable. In our free network assessment, we will audit your network and assess what may be compromising your security, to know how our I.T. infrastructure support can best help your business.
Can you make my Wi-Fi faster?
In short, yes. By implementing our networking solutions, we can improve the overall speed of your network and Wi-Fi connection.
Can you recover my data?
If you've lost data — or think you've lost data — the first thing you need to do is stop trying to fix the issue on your own. When one of our data recovery technicians visits your office, we can assess where the source of the data loss is and whether or not we can retroactively retrieve your data for you.
I think I might have been hacked. What should I do?
Contact us immediately. If you think your network's security has been compromised, your entire business could be at risk. We'll check your system for any breaches, eliminate them, and put measures into place to make sure this never happens again.
How can I know if my network's infrastructure is slowing me down?
If you're not well versed in the functionality of your technical infrastructure, you may not be able to troubleshoot this issue on your own. As part of our I.T. infrastructure support, our I.T. experts will assess your network's build and see what may be slowing you down.
Get the support from the experts trusted by businesses in South Jersey and Central Jersey for more than 30 years.
Call or contact New Jersey's best I.T. consulting firm, Shock I.T. Support, today at (215) 710-1665 for a free network assessment.