Do you have secure backup solutions in place?
Get Your FREE Network Assessment
"*" indicates required fields
Don't Risk Losing Your Data

— Stick it in the Cloud!

As businesses grow, so does their need for secure and increased data storage resources. It can be frustrating losing time, money, and collaboration opportunities due to insufficient data storage, access, and backup technology. At Shock I.T. Support, we know how businesses struggle with:
The shackles of limited storage or infrastructure
The dangers of lacking data protection and unauthorized data access
The irritation of frequent network issues driving productivity down
We are committed to solving these problems and more. With our top cloud services, we will bring your I.T. network up to speed, expand its data storage, and eliminate potential cyber-threats.
With Shock I.T. Support Cloud Services, Your Business will Grow with Your Data
We continue to provide modern I.T. solutions for businesses of all sizes throughout Bucks County, Philadelphia, New Jersey, including the regions of South and Central Jersey. As innovative technology and the need for data storage have come to the forefront of modern business concerns, Shock I.T. Support's technology services have updated as well. The reliable cloud services we provide are the products of a progressing society and will be implemented with the purpose of increasing your business's overall efficiency and data security.
Contact Us Today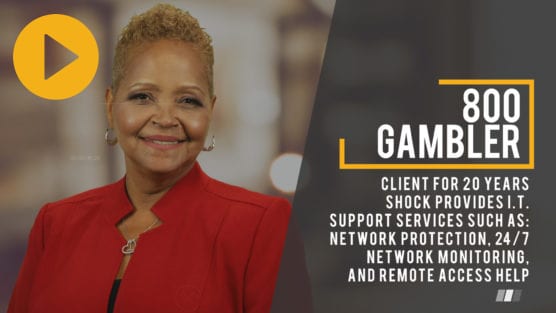 10 Factors To Consider When Hiring An I.T. Company
Download Now
Collect Your Data. Connect Your Business. Correct Your Operations, All In The Could.

Is your day-to-day a challenge because of technical trouble? Are you frustrated by the lack of resources your company has on the I.T. side of things? Do you require a higher degree of support than you currently receive?

If you're like most business managers who prioritize efficiency, organization and collaboration, then the answer is a resounding "Yes!"

Don't worry. We can help.

Read More
Soar Higher with Cloud Solutions
Shock I.T. Support can help your company increase efficiency, boost collaboration, and avoid I.T. headaches. Our team of experts, based in Bucks County, is ready to help your business in Philadelphia, Central Jersey and throughout New Jersey.
When we migrate your business to the cloud, you will enjoy:
Universally Accessible Documents and Data

Rapid Scalability

Increased Protection from Unauthorized Users

Freedom from Infrastructure Limitations
Your Source for Reliable Cloud Services
Whichever platform you use, Shock I.T. Support can accommodate your needs with a full range of cloud-based services.
Cloud Storage
Private Cloud Backup & Support
Cloud Server Support
Cloud Software as a Service (SaaS)
Cloud Disaster Recovery Services
Adept with Any Cloud Hosting Technology
Our talented team provides comprehensive cloud solutions for any platform, including:
AWS
Google Cloud
Office365
QuickBooks
DropBox
Azure
Barracuda
Carbonite
And many more!
Your network plays a pivotal role in the productivity and efficiency of your workplace. The longer it takes to process orders or upload data files means your team is wasting valuable time and energy that could go into production and customer service.
Our cloud computing services help to reduce waste in these areas, allowing your team to quickly and effectively log data, so they can spend less time dealing with your network and more time on daily operations. Using the cloud also protects your business from damaging cyber-attacks and malware, so your business never comes to a standstill because of a data breach.
Why Switch to Cloud Hosting?
Our cloud solutions pay huge dividends for businesses in Central and South Jersey. When you switch to cloud hosting, deploying new updates, systems, and technologies become significantly simpler and faster. By consolidating your software and storage tools, you can also save on I.T. costs, minimizing network issues and cutting down on regular system maintenance. The streamlined nature of the cloud also allows for scalability, meaning your business can grow with ease.
The cloud facilitates easy collaboration as well. Our cloud services allow for effortless document sharing between employees and off-site data storage with regular backups, so your business can work as effectively as possible without having to worry about losing valuable files.
Five Frequently Asked Questions (FAQ) About Cloud Solutions
I've heard about the cloud, but is it right for my business?
We always recommend companies use the cloud for storage, streamlining, and backup. Even if you have a local backup server or if you store your data in-house, having a cloud system in place will allow for easier access to documents on your day-to-day and in the event of a data disaster.
How can I experience the benefits of the cloud?
That's one of the great things about it — as long as you have a computer and an internet connection, you can have access to the cloud and all of its advantages.
Can cloud migration save me money?
Putting your company's data and systems in the cloud will give you another point of access for your information in the event of a disaster or local server malfunction. While it may take an up-front investment, the benefits your company will reap from the convenience of the cloud can pay dividends.
Does my current infrastructure support the cloud?
Contrary to popular belief, not all cloud platforms are created equal. When moving to cloud-based services, your focus is no longer on the speed of your internal servers but rather the speed of your internet connection. Speed can vary from platform to platform, so when you enlist the help of our cloud experts, we will help you determine the cloud solution that is best for you and your company.
What are the benefits of implementing managed cloud solutions?
With a managed cloud solution, we can have access to things like your company's power strips, firewalls, wireless access points, and cloud backup support. Being able to control all of this data in one place allows us to troubleshoot any problems and implement active I.T. solutions quickly and remotely.
Skyrocket Your Efficiency with Complete Cloud Storage Solutions
Cloud computing services can revolutionize the way your company does business and give you the flexibility to grow in the future. Get started with a free, no pressure, no obligation consultation to discuss your needs and see if moving to the cloud is the best choice for you.

For a free network assessment by the I.T. solution specialists from Philadelphia to South Jersey or to learn about our other services such as our wireless network design, managed I.T. services, or backup support, contact us today!