Are network & tech Issues Making Your head spin?
Get Your FREE Network Assessment
"*" indicates required fields
Is Your I.T. Confusing You?

We have you covered.

As one of the leading I.T. consulting firms in Philadelphia, Bucks County and New Jersey, you can rely on Shock I.T. Support to identify and resolve any problems within your network.

By eliminating costly challenges and improving your workflow with proven I.T. solutions, your company will start using technology to its full advantage. We offer a complete lineup of I.T. services including:
Getting Started with I.T. Consulting Services in PA or NJ
Regardless of how complex you may think your I.T. problems have become, the experts at Shock I.T. Support can resolve them. Serving the tri-state area for over 30 years, our I.T. consulting firm recognizes the value of superior customer service. With your industry knowledge and our IT expertise, together, we can make your business thrive through technology. By identifying the root cause of the problems you're experiencing and implementing a variety of I.T. solutions, technology will soon become your company's greatest strength. With a solid I.T. infrastructure in place, the security and speed of your network will power your business forward. Don't wait any longer to receive the I.T. consulting services your business requires. Turn your confusion into confidence, and begin to enjoy a more efficient workplace. Learn more about the services our I.T. consulting company provides by contacting us for a free network assessment today.
Free Network Assessment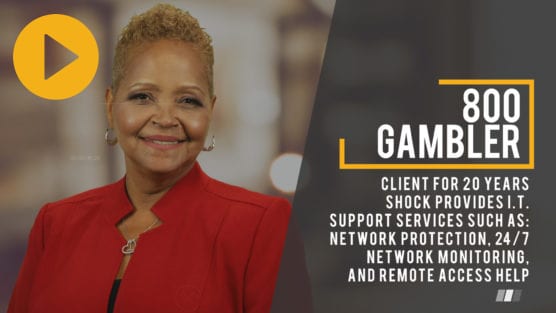 10 Factors To Consider When Hiring An I.T. Company
Download Now
Consultants to Help You Plan the Next Step
When it comes to I.T. services in NJ, you need expert advice and strategy development. We effectively use technology as a tool to help best solve the challenges your business is facing. Our team works with you, learns your business model, and makes expert recommendations to strategize the right technology that transforms your business. It can be difficult for you to make sense of all your technology options. We tackle your real business challenges, incorporating monitoring and maintenance for your equipment. Let our I.T. consultants help keep your company one step ahead
Read More
Resolving Technology Issues with a Dedicated IT Consulting Firm
At Shock I.T. Support, we are loyal to our clients. We understand the challenges that they face in an increasingly digitalized business world. That's why we want to leverage our expertise to help you get that competitive edge you've been searching for. Your success as a business will be reflective of our success as an I.T. consulting firm.
Whether you're in New Jersey, Philadelphia or Bucks County, PA, our advisors will work closely with you and your team to establish the best I.T. solutions for your business model. While your opponents struggle to bring their technology up to speed, you'll rest assured knowing that you're backed by some of best in the business.
I.T. issues can be confusing, persistent and debilitating for any company, causing many owners to grow frustrated with the current state of their technology. Fortunately, I.T. consulting services from Shock I.T. Support will alleviate your I.T. headaches, and help make everything start to make more sense.
After learning about the problems you're experiencing with your network and hearing about the goals you'd like to achieve, we'll present a comprehensive solution for your business. Partnering with us will make understanding the technology at your workplace easier, and also allow you to focus on what matters most.
If you're searching for a dedicated team of I.T. experts in PA or NJ, look no further than the pros at Shock I.T. Support. Receiving technology consulting services through our firm will prove to be a rewarding investment in the future of your company. Because as technology grows, so too will your business.
We know that everybody faces different challenges when it comes to technology. That's why we'll customize your services based on the specific needs of your business. And since I.T. consulting is available at an affordable flat monthly fee, you can streamline your workflow without busting the bank.
Whether you're trying to scale your business, struggling with downtown, worried about losing data, or looking to improve file sharing, Shock I.T. Support is the preferred provider of I.T. solutions in the tri-state area. It's time for you to stop stressing about your I.T. and gain more confidence about the performance of your technology.
By focusing on the security and speed of your network, Shock I.T. Support will help to increase the overall productivity of your employees. With years of industry experience and access to innovative resources, we want to help you supplement all other business operations with powerful technology.
Don't wait any longer to enjoy all the advantages of a more productive workplace. Partner with Shock I.T. Support and develop a more promising vision for the future of your business.