0

%

Hosting Uptime

<

0

Second Response Time

0

%

Client Satisfaction
Managed I.T. Services

That Keep Your Business Moving Forward

I.T. issues are one of the most damaging barriers for any business due to a variety of reasons. If your company deals with slow internet speeds, outdated or nonexistent cybersecurity or data storage options, or collects sensitive, at-risk data, then you need dependable I.T. support services from Shock I.T. Support. We can address your company's:
MANAGED IT SERVICES: Keep your proprietary business data safe
DATA PROTECTION & BACK-UP: Professional-grade protection and recover
NETWORKING: BUSINESS-CLASS PERFORMANCE AND RELIABILITY
HOSTING AND CLOUD: Business-class performance and reliability
SECURITY AND COMPLIANCE: Multi-layered defenses and comprehensive protection
Don't fall behind the competition and delay business growth and success because of I.T. glitches and security breakdowns. Stay on top by calling Shock I.T. Support today, and bring safety and stability to your business.
Professional Managed I.T. Services From Real People With Real Expertise
I.T. problems can slow down your business's productivity and negatively impact how you communicate with customers. For over 30 years, our I.T. experts have responded promptly and efficiently to a wide variety of business I.T. support requests in New Jersey and the Bucks County area of Pennsylvania, and our tech specialists will continue to uphold that legacy of excellence with your network, working unceasingly to maximize your company's technology capabilities. From improving cybersecurity through I.T. infrastructure support to advanced data protection and recovery, Shock I.T. Support can grow your network, increase connectivity speed, and break through the barriers that prevent progress for your business.
View Case Studies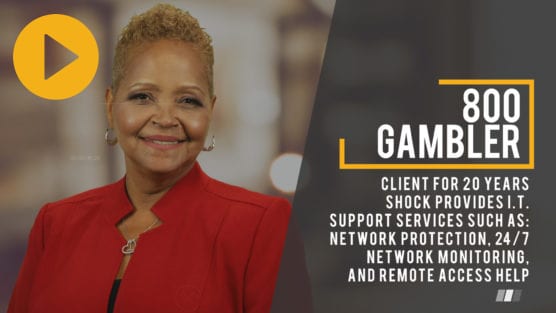 Hear what our customers are saying on Google
Our organization has been using Shock I.T. Support for over 20 years (under another name previously). We have been nothing but more than satisfied. The techs are extremely knowledgeable and very accurate and patient. Would not use anyone else for our IT needs!
From the top down they are nice people to work with but more importantly they get the job done. They are honest, straightforward professionals and their customer service is excellent. Highly recommended!
Called Shock I.T. Support to resolve our issue and we got the issue resolved promptly. Very pleased.
Working with Shock I.T. Support is an absolute pleasure for our company. If there is any network connection issue or VPN access issue, (and many more) even during the odd hours or when we are overseas, they have always come up with solution and managed it right away. They have a wonderful team of people.