IS YOUR NETWORK SLOWING YOUR BUSINESS DOWN?
Get Your FREE Network Assessment
"*" indicates required fields
3 Steps To Secure Your Future
Consult Our Experts
Our team will listen to your concerns, assess your current I.T. infrastructure, and make recommendations tailored to your needs.
Implement & Execute
We will implement the solutions you've selected and monitor their effectiveness to improve your business' operations continuously.
Enjoy A Proactive I.T. Partnership
We go the extra mile for our customers, which means our team is constantly being proactive about making recommendations today that benefit your business tomorrow.
Get A Quote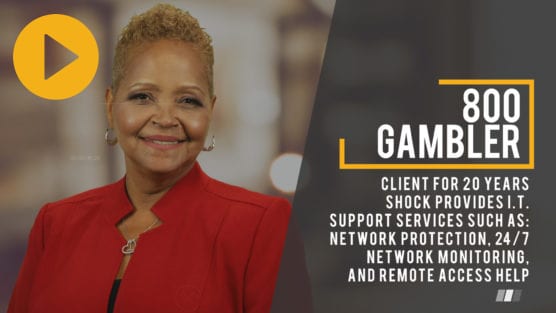 Increase Productivity | Protect Your Business | Position Yourself For Growth
0

%

Hosting Uptime

<

0

Second Response Time

0

%

Client Satisfaction
Stop Worrying About I.T. Troubles.
We Have Your Network Covered.
Every modern business relies on technology to achieve their business goals and keep their daily operations running smoothly. Unfortunately, as technology continues to advance at a rapid rate, outdated networks and data storage infrastructure, slow connections, and weak cybersecurity measures are frequently frustrating small business owners and presenting vulnerabilities to skilled and malicious hackers, putting sensitive client and company data at risk of theft and erasure. Hiring an I.T. service firm is necessary to protect and recover a company's valuable information, update its data storage options, and design its network and manage it 24/7.
Read More
At Shock I.T. Support, our team of experienced I.T. experts can provide top-of-the-line network design and a full suite of managed services and elite I.T. solutions to keep your company safe and operating efficiently. We are proud to be a top I.T. service provider in the Bucks County, Philadelphia, and New Jersey regions for over three decades, offering a wide range of customizable I.T. services that can fit in with any business model to achieve your business goals.
The Top I.T. Service Provider You Can Trust
At Shock I.T. Support, we are passionate about offering the best I.T. services for the best rates every day. We understand how important having a reliable network is to any business, but we also know how time-consuming and costly it can be to hire in-house I.T. personnel or troubleshoot I.T. issues on your own. This is where the Shock I.T. Support firm's I.T. consultants and specialists can help.
Here are a few of our ever-evolving I.T. solutions you can enjoy for an affordable rate:   
Network Design
Is your WiFi spotty? Do you spend too much time waiting for your website to load? With Shock I.T. Support, we can design the network that best works for your company. From maximizing network speed and increasing cybersecurity to anticipating future scalability and boosting data storage infrastructure, your new wireless network design will work with you as your company grows.
Managed I.T. Services
I.T. is a full-time job with many moving parts, but sometimes the budget doesn't allow for in-house support or many I.T. services aren't offered by your current I.T. company. Our managed I.T. services, however, give your company 24/7 network monitoring, cybersecurity software, data backup solutions, and so much more, for a flat monthly rate.
Cloud Hosting Solutions
Have you run out of data storage? Is your system slowing down because of data saturation, outdated technology, or a possible third-party hack? All companies need storage solutions, and, as the top I.T. company in the area, we can put your data on our secure cloud. With our cloud hosting solutions, we will provide your business with additional data storage, security measures, and disaster recovery services while minimizing hardware costs and increasing network speeds.
Disaster Recovery
One strong reason your company needs the help of an elite I.T service provider is data backup recovery. Now, more than ever, companies require sturdy cybersecurity and disaster recovery because, in business, data is king. If you lose your data because of an unpreventable natural disaster, a malicious virus, or criminal hackers, your company could go under in a hurry. But with Shock I.T. Support, we have your back and can put a comprehensive plan in place to prevent and recover lost data. 
Whether you are in Philadelphia, Bucks County, South Jersey, or Central Jersey, we are the I.T. service provider that can give your company's network the boost and support it needs to keep your business efficient and competitive.
Go Mobile With VPN Services
At Shock I.T. Support, Greater Philadelphia's elite I.T. service firm, we are the providers of the best data protection and accessibility services for your network; however, modern businesses are going remote and need secure access to the networks from outside of it. Unfortunately, in many companies, remote capabilities leave company software, information, and valuable data at risk and slow down connectivity, which slows down productivity.
Fortunately, our firm is a trusted provider of Virtual Private Networks (VPNs). Our VPN services can give your employees secure access to specific software and data from anywhere and shields the data from anywhere outside the immediate range of your network. For excellent VPN services in Philadelphia and  New Jersey, including Central Jersey and South Jersey, just bring in the leading I.T. company in the region.
Call the Top I.T. Service Firm Today! 
If your company's network needs speed, reliability, and protection, and you want to bring in a trusted I.T. service provider to keep your data secure and your systems operational, Shock I.T. Support is the smart choice! We are the provider of the best I.T. support and services in the tri-state area. Contact us today to schedule a free network assessment and speak directly with one of our I.T. specialists. 
We look forward to maximizing your company's network speed and security.
Hear what our customers are saying on Google
Our organization has been using Shock I.T. Support for over 20 years (under another name previously). We have been nothing but more than satisfied. The techs are extremely knowledgeable and very accurate and patient. Would not use anyone else for our IT needs!
From the top down they are nice people to work with but more importantly they get the job done. They are honest, straightforward professionals and their customer service is excellent. Highly recommended!
Called Shock I.T. Support to resolve our issue and we got the issue resolved promptly. Very pleased.
Working with Shock I.T. Support is an absolute pleasure for our company. If there is any network connection issue or VPN access issue, (and many more) even during the odd hours or when we are overseas, they have always come up with solution and managed it right away. They have a wonderful team of people.